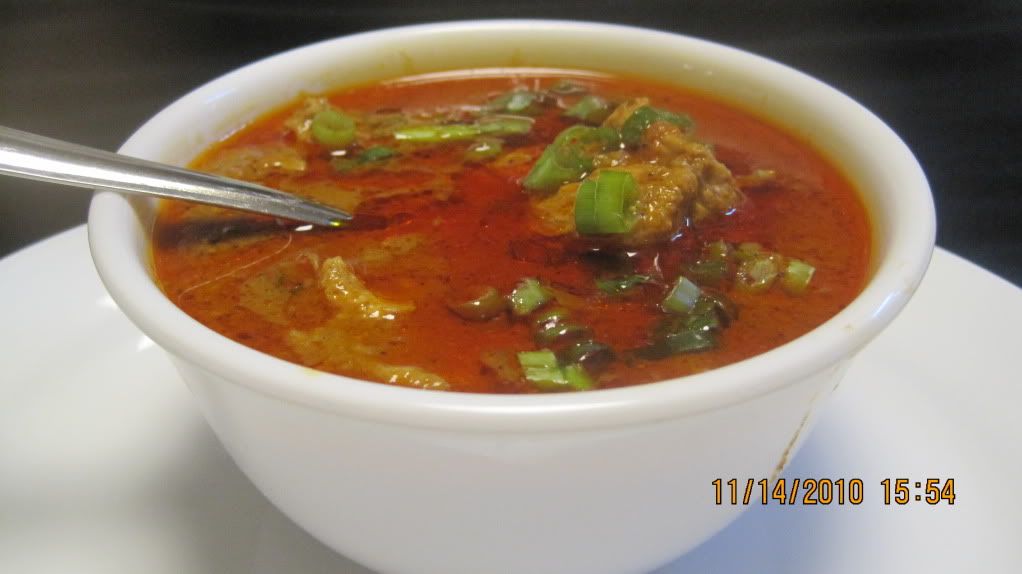 This is another favorite recipe of mine, which is always appreciated when served! Goes well with both chapathi as well as white rice. This type of chicken kulumbu is mostly served in the southern parts of tamil nadu.
Ingredients for the Masala
Kashmiri Chiili Powder - 2 teaspoons (This is bright red chilli powder).
Corriander seeds - 1 table spoon.
Fennel Seeds- 1 teaspoon
Cumin Seeds- 1 teaspoon
Poppy Seeds (kus kus) - 1 teaspoon
cloves - 3
cardamon - 1
cinnamon - 1/2 inch piece
cashewnuts - few
coconut - 1/2 cup
Ripe plum big tomato - 2 to 4 (Depends on the quantity for the gravy)
Fry the above ingredients in ghee and grind them into a smooth paste. Add the tomatoes at the end after frying the other ingredients. You would get a bright red paste!
Other Ingredients
Chicken - 2 pounds (with bones)
Big red onion - 1
ginger - 1 inch piece
garlic - 4 pieces
curry leaves
turmeric powder - a pinch
salt
Method
Finely chop onions, ginger and garlic.
In the pressure cooker, add oil, add curry leaves, then finely chopped onions, ginger and garlic. Fry well. Then add the chicken pieces with some salt and turmeric powder. Then add the grinded masala. Fry well then close the pressure cooker and cook for 1 whistle and 5 minutes in simmer. Once when completely done and when you open up the pressure cooker, oil should float on top.
This would be delicious with hot white rice!